Protection of passengers with reduced mobility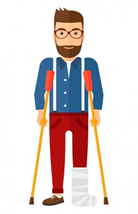 Protection of passengers with Reduced Mobility
The EU Regulation 1107/2006 obliges tour operators, air carriers and airport management bodies to provide high-quality and practical help to disabled passengers and passengers with reduced mobility so that they have the same travel opportunities as other citizens.
The EU Regulation 1107/2006 recognizes that there are many types of disability and that the causes of reduced mobility can vary from person to person.

They can include obvious difficulties e.g. walking difficulties whether due to injury or age etc. and difficulties that are less obvious e.g. vision hearing impairments, intellectual disabilities etc.
The rules state that any person who suffers from a disability – whether temporary or permanent and regardless of the reason – is entitled to certain types of assistance when taking a flight. Most importantly any assistance provided is free of charge to the passenger.
If you require help you can expect to receive it when travelling through airports in any of the EU Member States and ECAA countries (Western Balkan, Norway, Island and Lichtenstein) and to receive it on-board all flights departing from these countries. You are also entitled to be helped on all flights arriving into any of these countries if your flight is operated by an ECAA air carrier.
Air carriers and airport management bodies have the largest roles to play in implementing these the regulation.