CAA celebrated the International Civil Aviation Day – December 7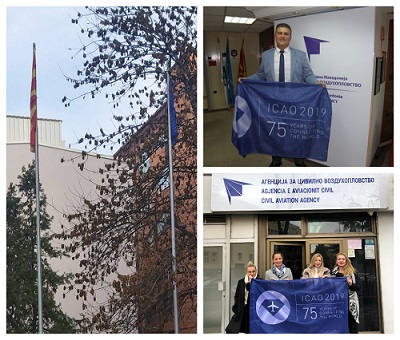 The Civil Aviation Agency with a series of commemorative events joined the marking of the International Civil Aviation Day – 7 December, as a highly important jubilee celebration – 75 years from the establishing of the International Civil Aviation Organization (ICAO). Last in the series of activities was raising the ICAO flag in front of the Ministry of Transport and Communications, symbolically demonstrating the firm commitment of the competent institutions for consistent implementation of international standards, recommendations and positive practices in the field of air traffic and transport.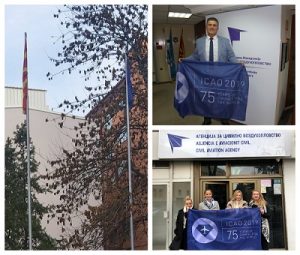 International Civil Aviation Organization (ICAО) is a United Nations specialized agency. ICAO establishes the standards, recommendations, principles and techniques in the international air traffic and transport, in order to ensure orderly, efficient, unified and secure aviation development on global level. ICAO was established by the Convention on International Civil Aviation (Chicago Convention), signed by 52 States on 7 December 1944 in Chicago, USA. Today, ICAO lists 193 countries, making it one of the largest, most influential and most important international organizations in the world. The Republic of North Macedonia became a full member of ICAO immediately after its independence, i.e. after its accession to the UN in 1993.
The aim of the global marking of the International civil aviation day is raising the awareness of the position, role and meaning of the international civil aviation around the world, as in the social and economic development of the countries, as well as the role of ICAO in the improvement of the safety, efficiency and regularity in the international air transport.
In that spirit ,the CAA as part of the world civil aviation authority family, remains consistent to the principles for national civil aviation promotion, as fast, efficient, safe, secured and ecological sustained air transport.