Meeting of the Director General Mr. Tuntev with Ms. Arikan, General Manager of Turkish Airlines in Macedonia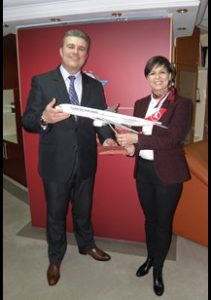 22.01.2019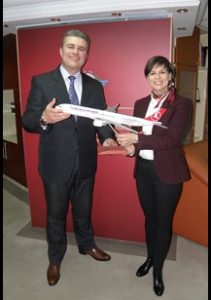 The Director General of the Civil Aviation Agency, Mr. Tomislav Tuntev, Ph.D. had a working meeting yesterday with Ms. Pinar Ayvaz Arikan, General Manager of Turkish Airlines in Macedonia.
At the meeting, Tuntev highlighted the preparedness and determination of the national civil aviation authorities to intensify the mutual cooperation with every segment of the national air transport system, including the scheduled airlines as an important part thereof. At the same time, the Director General Mr.Tuntev underlined the role of the CAA in the processes of continuous improvement of the level of safety of air transport and upgrading the national air transport system.
The General Manager Ms. Arikan informed the Director General Mr. Tuntev about the current activities and achievements of the Turkish national airline in the airline business, the operational challenges related to opening of the new airport in Istanbul, as well as the future development plans of the company.
Arikan and Tuntev expressed mutual satisfaction regarding the position of Turkish Airlines, which currently operates from Skopje Airport to Istanbul with two flights daily and in that way, it is practically in the list of most important partners in the airline business in Macedonia.
The interlocutors, among other issues, addressed the possibilities for improving the cooperation with the relevant institutions in the field of development of tourism, the mutual efforts for creating optimum technical and operational requirements for continuous increase of the number of aircraft operations, as well as the future possibilities for continuous expansion, upgrade and development of air transport capacities.
The heads of the Civil Aviation Agency and Turkish Airlines in Macedonia expressed full willingness to intensify the mutual communication for the purpose of joint facilitation and support of the development of certain functional elements in the global transport system, as well as to share positive experiences and applied practices aimed at further development.