CAA promoted ICAO's 75th anniversary at the 16th World Paragliding Championship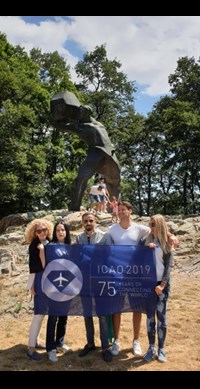 19.08.2019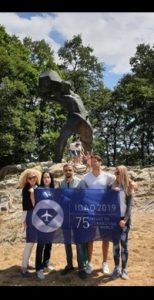 The Civil Aviation Agency continues its promotional activities dedicated to celebrating the 75th anniversary of the International Civil Aviation Organization to which the country is a member for more than 25 years.
In that spirit, but also for the purpose of promoting and supporting the activities carried out by the aviation industry in the country, the Director General of the CAA, Mr. Tomislav Tuntev, PhD accompanied by members of the management team and by invitation from the organizer, the Aeronautical Federation of Macedonia, attended the official opening of the 16th World Paragliding Championship, held in Krushevo.
150 paraglider pilots from 49 countries in the world took part the competition, participating in several competing disciplines.
A team of Agency employees had the honor to be a part of the final competition at Mechkin Kamen, as well of the official ceremony, held at the main square in Krushevo, where the winning paragliding teams from France, Italy and Japan were announced.
The Macedonian paraglider pilot Vladimir Nedelkovski won the 14th place at this competition, which is his most successful result so far.
The CAA used the positive competing atmosphere at Mechkin Kamen, filled with a high degree of adrenaline and excitement, to promote ICAO's 75th anniversary through a series of activities in front of the present guests and competitors, as well as to share a wide spectrum of information related to its activity.
With dignity and in the spirit of celebrating an anniversary worthy of a world respectable aviation organization, the CAA employees raised ICAO's flag at the pole of the historical Mechkin Kamen.
At the same time, the presence of the CAA at the 16th  World Paragliding Championship once again showed and proved that the Agency is a reliable promoter of flight sports as a way of life which allows the citizens to be actively included in recreational adrenaline activities, but also to become a part of the contemporary European trends for acquiring sport habits for maintaining a healthy and environmental-friendly way of life.