Meeting of the Director General Mr.Tuntev with the Minister of Transport and Communications Mr.Sugareski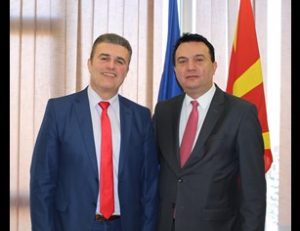 15.01.2019
The Director General of the Civil Aviation Agency Mr. Tomislav Tuntev, Ph.D. had a working meeting today with the Minister of Transport and Communications of the Government of the Republic of Macedonia, Mr. Goran Sugareski.
At the meeting both interlocutors expressed full willingness to intensify the procedure for adopting the amendments of the Aviation Act for the purpose of harmonization of the Macedonian legal system with the latest international aviation Standards and Recommended Practices, accepted in accordance with the Multilateral Agreement on the European Common Aviation Area and the Chicago Convention.
Tuntev and Sugareski, among other issues, tackled the establishing of the strategic interests of the Republic of Macedonia in the process of joining one of the existing Functional Airspace Blocks. This project foresees grouping of the airspace of the countries in Europe and the region, as a prerequisite for completing the first phase of the Multilateral Agreement on the European Common Aviation Area.
In that regard, Tuntev and Sugareski reviewed the positive and negative aspects of both possibilities for including the Republic of Macedonia in the DANUBE or BLUE MED FAB. It was agreed to also include the Air Navigation Service Provider MNAV, as the most important stakeholder in the process, in the further coordination related to the implementation of this project.
The Director General Tuntev conveyed to the Minister Sugareski his positive views related to the recent signing of the agreement on subsidies for Wizz Air, which, as he stated, would additionally increase the number of passengers and the cargo volume of Macedonian airports and it would also widen the spectrum of possibilities for travelling to a greater number of European and worldwide destinations, at prices affordable for everyone.
The heads of the Civil Aviation Agency and the Ministry of Transport and Communications pledged to improve the cooperation between both institutions within the areas of mutual competence, with the purpose of creating a modern, safe, secure, and European profiled Macedonian aviation, accessible for all at equal conditions.