The Director General of the CAA Mr. Tuntev had a meeting with the Director General of EUROCONTROL Mr. Brennan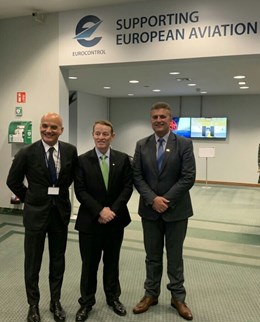 13.05.2019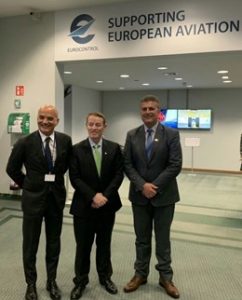 Within the framework of the working visit of EUROCONTROL in Brussels, the Director General of the Civil Aviation Agency, Mr. Tomislav Tuntev, PhD held a meeting with Mr. Eamon Brennan, Director General of EUROCONTROL. The meeting was also attended by Mr. Iacopo Prissinotti, Director of Network Management, Mr. Donal Handley, Head of the Director General's Office, Mrs. Deniz Aktug, High Advisor of the Director General for International Cooperation and Mr. Kenneth Thomas, Head of Network Operations Management Division.
The hosts of the meeting held a comprehensive presentation of the overall operations, activities and development projects of EUROCONTROL, as a single European specialized agency for management, control and safety of air navigation.
The Director General Mr.Tuntev familiarized in details the highest management team of EUROCONTROL with the current working activities and future plans of the Macedonian aviation authorities, as well as with the cooperation with the entities from the aviation industry in our country.
The meeting was used for a productive and comprehensive discussion about several current various topics in the field of air transport, which are essential for the development of aviation in the Republic of North Macedonia. The interlocutors discussed about the air traffic growth in the Macedonian sky, the increase of the physical scope of transport at the Macedonian airports, the significant reduction of flight delays, the CO2 emission, the realistic possibilities for entry of low-cost carriers in the Macedonian aviation market, the requirements for increasing the efficiency and performance of aviation entities, the need to engage educated, experienced and professional human resources at the CAA, the requirements for accelerated development of Ohrid airport for the purpose of intensifying the sustainable development of tourism in the service area of the airport, the necessary requirements for expanding the aviation operational capacities at global level etc.
One of the topics discussed during the meeting was also the granted technical and material support for the development of aviation systems and developmental projects of the Macedonian aviation entities within the EUROCONTROL "Support to States" project.
Within the framework of the visit, there was a presentation about the functioning of the Network Manager's Operations Room for management and control of the air traffic flow over the European continent, with a real-time and simulated visual overview of daily air traffic flows.